Some of the best food in the world is Aussie grown.
Send this package to the foodie in your life to say thanks, send good wishes, or as a subtle way to invite yourself to dinner!
They'll receive locally produced spices, honey, jams, and chutneys, along with other delicious things that foodies dream of.
None of our Beautiful Bundles are ever exactly the same - just like the people in your life. You'll have the option to tell us more about the lucky recipient on the checkout page so we can tailor a bespoke bundle to them! The idea behind Beautiful Bundles is that we source quirky, premium products from all over Australia and put together a bespoke gift bundle, so you don't have to do all the hard work. The images show examples of products that could be included in the bundle. Not convinced yet? Read some of our testimonials!
Customer Reviews
10/18/2021
Anonymous

Australia
I recommend this product
Great for team
Sent the large Foodie gift bundle to a client to share with their team. Loved the fact that Beautiful Bundles took into account that the included products would have to be shared. The team loved it too!
10/18/2021
Beautiful Bundles
That's what Beautiful Bundles is all about :) Thanks for the review! x Jay & Kate
10/01/2021
Anonymous

Australia
I recommend this product
The guys loved it
Sent this to a client of mine as a thank you for working with me and they absolutely loved it. Thank you Beautiful Bundles for taking the gift shopping out of my hands!
10/01/2021
Beautiful Bundles
We're glad they loved it! Thanks for letting us do the gift shopping ❤️ Kate & Jay
08/31/2021
Anonymous

Australia
I recommend this product
Such a great find! Love it
I am so delighted and grateful for the bundle that turned up for my husband! The inclusions are excellent quality, generous and thoughtful. Im in harsh lockdown and this will make his day special ! So thank you - I couldn't recommend you guys more!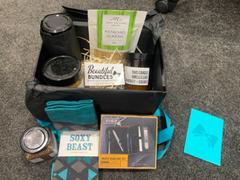 08/31/2021
Beautiful Bundles
Thank you so much for the amazing review. We're thrilled your husband enjoyed his Foodie Gift Bundle! Fingers crossed the lockdown won't last much longer. Stay safe! x Jay & Kate